London Vice-Mayor visits Wanda headquarters
Jun 08,2013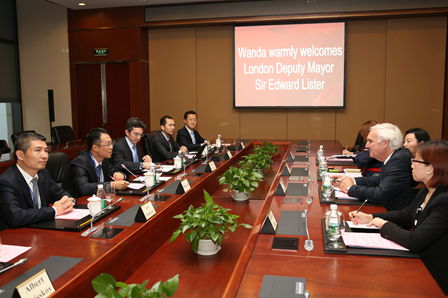 Wanda Cultural Industry Group Executive President Zhang Lin met with Vice-Mayor of London Edward Lister at Wanda Group's headquarters in Beijing on June 7.
The two exchanged views on imminent and future investment and business opportunities in London.
Accompanied by Zhang, Lister visited the Sofitel Wanda Beijing Hotel.
Lai Jianyan, senior assistant president of Wanda Group and director of Wanda Business Planning Research Institute, also attended the meeting with Lister.
About Wanda Group:
The Dalian Wanda Group was founded in 1988 and operates in four major industries, including commercial properties, luxury hotels, culture & tourism, and department store chain. The company has assets of 300 billion yuan ($48 billion) and an annual income of 141.7 billion yuan ($23 billion), and pays 20.2 billion yuan ($3.2 billion) in taxes every year. The company now operates 69 Wanda Plazas, 38 five-star hotels, 6,000 cinema screens, 57 department stores and 63 karaoke outlets across the country. By 2015, the company aims to increase its assets to 400 billion yuan ($64.8 billion) and annual income to 250 billion yuan ($40.5 billion), and pay 30 billion yuan ($4.8 billion) in taxes every year, becoming a world-class enterprise.