Wang Jianlin meets with George Washington University president
Jun 04,2013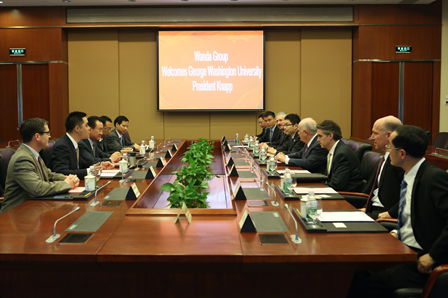 Wanda Group Chairman Wang Jianlin met with the President of the George Washington University Steven Knapp and other faculties from the university at the headquarters of Wanda Group in Beijing on June 4.
Wanda Cultural Industry Group Executive President Zhang Lin and General Manager of Investment Management Center Liu Chaohui also attended the meeting.
The 100-year-old George Washington University is a comprehensive private, coeducational research university located in Washington, D.C., US.
Related News:
Germany HPP visits Wanda Commercial Planning & Research Institute
New Zealand Ambassador visits Ningde Wanda Realm Hotel
About Wanda Group:
The Dalian Wanda Group was founded in 1988 and operates in four major industries, including commercial properties, luxury hotels, culture & tourism, and department store chain. The company has assets of 300 billion yuan ($48 billion) and an annual income of 141.7 billion yuan ($23 billion), and pays 20.2 billion yuan ($3.2 billion) in taxes every year. The company now operates 69 Wanda Plazas, 38 five-star hotels, 6,000 cinema screens, 57 department stores and 63 karaoke outlets across the country. By 2015, the company aims to increase its assets to 400 billion yuan ($64.8 billion) and annual income to 250 billion yuan ($40.5 billion), and pay 30 billion yuan ($4.8 billion) in taxes every year, becoming a world-class enterprise.