New Zealand Ambassador visits Ningde Wanda Realm Hotel
May 31,2013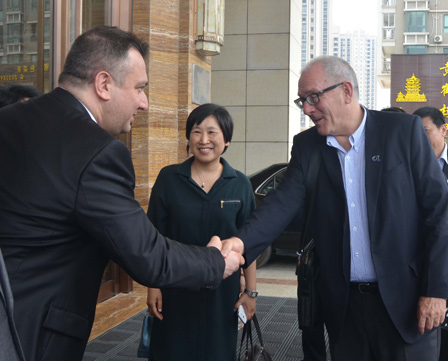 General manager of the hotel Adnan Yucel (L) greets New Zealand Ambassador to China H.E. Mr.Carl Worker at the entrance of the hotel.
New Zealand Ambassador to China H.E. Mr.Carl Worker and the Consul General for New Zealand at Guangzhou visited Ningde Wanda Realm Hotel in Fujian Province on May 30.
They were warmly greeted by Adnan Yucel, general manager of the hotel which opened on August 11, 2012.
Related News:
Wanda Realm Hotel Opens in Huai'an
Wanda Vista Hotel Opens in Changsha
Ningde Wanda Plaza and Jiahua Hotel Open
About Wanda Group:
The Dalian Wanda Group was founded in 1988 and operates in four major industries, including commercial properties, luxury hotels, culture & tourism, and department store chain. The company has assets of 300 billion yuan ($48 billion) and an annual income of 141.7 billion yuan ($23 billion), and pays 20.2 billion yuan ($3.2 billion) in taxes every year. The company now operates 69 Wanda Plazas, 38 five-star hotels, 6,000 cinema screens, 57 department stores and 63 karaoke outlets across the country. By 2015, the company aims to increase its assets to 400 billion yuan ($64.8 billion) and annual income to 250 billion yuan ($40.5 billion), and pay 30 billion yuan ($4.8 billion) in taxes every year, becoming a world-class enterprise.