Wanda to recruit 10% more college graduates
May 23,2013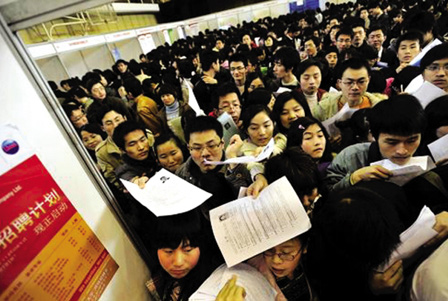 To alleviate the pressure of a tight job market on graduates, Wanda Group required its headquarters and branches to recruit 10% more college graduates than last year, according to China Business Times.
Colleges in China are expected to churn out a record 6.99 million graduates this year amid a falling employment rate. Beijing Educational Committee revealed that only 33.6% of this year's graduates in Beijing have secured a job as of May 1.
Wanda Group, a leading private enterprise with more than 80,000 employees worldwide, ranks first among Chinese companies in creating employment opportunities, said Wanda Group Chairman Wang Jianlin.
As the graduates are facing a tough job market, he asked the group to fulfill the social responsibilities by recruiting 10% more graduates this year.
Wanda provided job vacancies for 107,000 people last year, accounting for nearly 1% of the country's total new jobs of the year. About 25,900 of the vacancies were given to college graduates.
Wang urged every company of the group to make a college recruiting plan and put it as part of the annual assessment.
Wanda's hotel management company, business management company, department stores, cinemas and KTVs have been the main force in providing job opportunities for graduate students during the past years.