Wanda awarded best exhibitor and organizer at culture fair
May 22,2013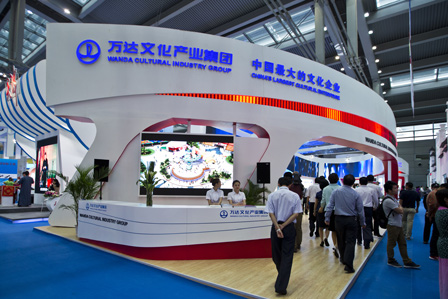 The pavilion of Beijing Wanda Culture Industry Group at the venue of the ninth China International Cultural Industries Fair.
Wanda's culture arm, Beijing Wanda Culture Industry Group, was named the best exhibitor and organizer by the organizing committee of the ninth China International Cultural Industries Fair, which closed on May 20 in Shenzhen, South China's Guangdong Province.
Wanda's 432sq pavilion, the largest one in the venue, has attracted much attention from government officials, media, businessmen and other visitors throughout the four-day event.
Officials from Guangdong, Hunan, Gansu, Guangxi and Fujian invited Wanda to invest in their provinces or regions after visiting the venue showcasing Wanda's cultural tourism projects. Several cinema lines and entertainment, culture and tourism enterprises also expressed the hope to cooperate with Wanda. More than a thousand of visitors waited in line to get the interactive experience in the pavilion.
It is the second time for the group to attend the annual event. Wanda presented all of its culture brands including the American theater chain AMC, Wanda Cinema Line, theme parks, Wanda Media Company, the joint venture with Franco Dragone Entertainment Group, the film technology park, etc.
Related News:
Chairman attends culture fair, talks about innovation and ambition
Changbaishan ranks among top travel destinations
Wanda attends UNESCO culture meeting
About Wanda Group:
The Dalian Wanda Group was founded in 1988 and operates in four major industries, including commercial properties, luxury hotels, culture & tourism, and department store chain. The company has assets of 300 billion yuan ($48 billion) and an annual income of 141.7 billion yuan ($23 billion), and pays 20.2 billion yuan ($3.2 billion) in taxes every year. The company now operates 67 Wanda Plazas, 38 five-star hotels, 6,000 cinema screens, 57 department stores and 63 karaoke outlets across the country. By 2015, the company aims to increase its assets to 400 billion yuan ($64.8 billion) and annual income to 250 billion yuan ($40.5 billion), and pay 30 billion yuan ($4.8 billion) in taxes every year, becoming a world-class enterprise.