Wanda attends UNESCO culture meeting
May 21,2013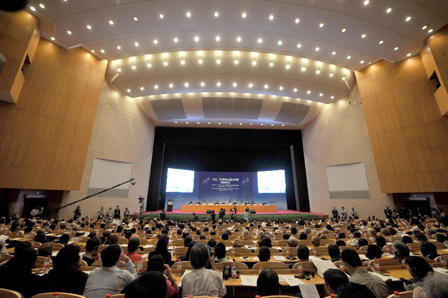 Wanda Cultural Industry Group Executive President Zhang Lin attended the International Congress on "Culture -- the Key to Sustainable Development" organized by UNESCO in Hangzhou, Zhejiang Province from May 15 to 17, 2013.
Zhang joined in the high-level discussion with the topic of "Peace and reconciliation: How culture makes the difference" and attended a sub-forum for culture enterprises to introduce Wanda's experience on developing culture industry.
Guest speakers include over 100 of the world's most cutting-edge experts on culture and development as well as government leaders from Africa, Asia and Latin America keen to share their experiences. More than 400 delegates from 81 countries and 20 international organizations attended the congress.
The congress was concluded by issuing a declaration recognizing the power of culture for sustainable development.
Related News:
Chairman attends culture fair, talks about innovation and ambition
Eying overseas market, Wanda aims to be the next 'Disneyland'
About Wanda Group:
The Dalian Wanda Group was founded in 1988 and operates in four major industries, including commercial properties, luxury hotels, culture & tourism, and department store chain. The company has assets of 300 billion yuan ($48 billion) and an annual income of 141.7 billion yuan ($23 billion), and pays 20.2 billion yuan ($3.2 billion) in taxes every year. The company now operates 67 Wanda Plazas, 38 five-star hotels, 6,000 cinema screens, 57 department stores and 63 karaoke outlets across the country. By 2015, the company aims to increase its assets to 400 billion yuan ($64.8 billion) and annual income to 250 billion yuan ($40.5 billion), and pay 30 billion yuan ($4.8 billion) in taxes every year, becoming a world-class enterprise