Wanda signs deals with Hebei cities at trade fair
May 20,2013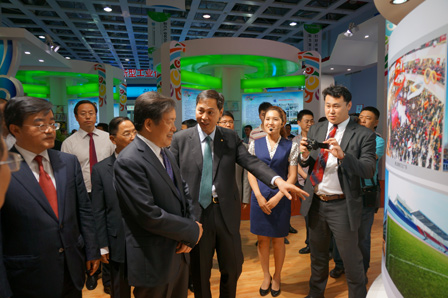 Hebei Provincial Party Secretary Zhou Benshun (2nd left) and Provincial Governor Zhou Qingwei (1st left) visit Wanda's pavilion.
Wanda Group attended the China (Langfang) International Economic & Trade Fair as an exhibitor in Langfang, Heibei Province.
The fair opened at Langfang International Exhibition Center on May 18 and will run through May 21.
To pave the way for its development in Hebei Province, Wanda signed a bunch of framework agreements at the fair with several Hebei cities like Shijiazhuang, Handan, Xingtai, Cangzhou, Qinhuangdao and Zhangjiakou.
Hebei government officials, including Provincial Party Secretary Zhou Benshun, Provincial Governor Zhou Qingwei and Deputy Provincial Governor Qin Boyong, as well as municipal officials from the province visited Wanda's pavilion at the fair.