Wanda's 1st cultural tourism city lands in Harbin
May 08,2013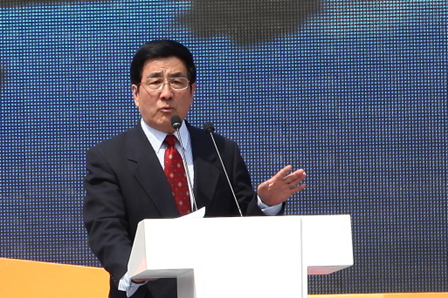 Lin Duo, Heilongjiang Party Committee Standing Committee Member and Harbin Party Committee Secretary, addresses at the groundbreaking ceremony.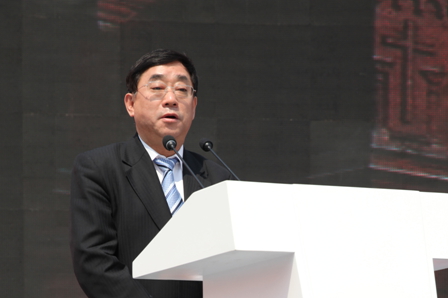 Heilongjiang Vice-Governor Zhang Jianxing speaks at the groundbreaking ceremony.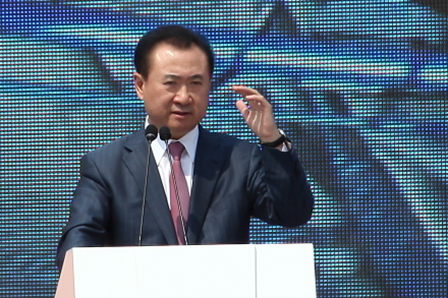 Wanda Group Chairman Wang Jianlin makes a speech at the groundbreaking ceremony.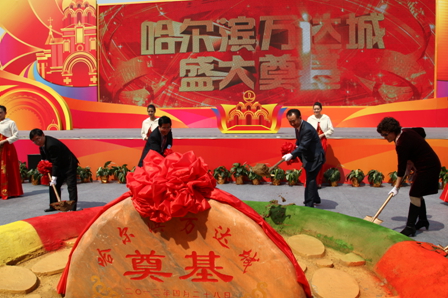 Chairman Wang Jianlin and Heilongjiang party and government leaders jointly lay the foundation stone for Wanda Cultural Tourism City.
Harbin Cultural Tourism City officially started construction in Harbin, capital city of Northeast China's Heilongjiang Province on April 28, 2013.
With an investment of over 20 billion yuan from Wanda Group, the tourism city plans to open in 2017. It will be the largest cultural tourism complex in northeastern China and hopefully turn Harbin into a famous cultural tourism city.
Lin Duo, member of the standing committee of the Heilongjiang provincial party committee and secretary of the Harbin city party committee, Zhang Jianxing, vice-governor of Heilongjiang, and Wang Jianlin, chairman of the board of Wanda Group, attended the groundbreaking ceremony.
Characterized by unique innovation, master designers, and Wanda's own intellectual property rights, the Cultural Tourism City is the world's first mega commercial project for cultural tourism and an innovative product from Wanda Group, which has rich experience in the commercial, cultural and tourism industries.
Located in the Songbei New District, the tourism city covers an area of 80 hectares with a total construction area of 900,000 square meters. It can simultaneously accommodate 50,000 visitors with daily maximum accommodation of 100,000 visitors. It is expected to receive 20 million visitors per year.
The tourism city will create 30,000 jobs and pay over 500 million yuan per year in taxes with expected annual revenue of 6 billion yuan.
Consisting of four functions including culture, tourism, commerce and hotel, Harbin Cultural Tourism City will mainly be an indoor project considering the long freezing winter in Harbin.
Cultural projects in the tourism city include a large theater, a movie technology park, as well as the largest cinema complex in Northeast China.
Tourism projects include two indoor theme parks and an outdoor theme park. The world's largest indoor ski field has a total of six ski routes at three different levels with a drop of more than 100 meters that can simultaneously accommodate 1,500 skiers. The indoor skating rink, with a world-class competition standard, can stage international competitions. The large outdoor theme park, covering an area of 40 hectares, is a world-class theme amusement park.
The 90,000sq business center is a main axis of the entire tourism city that will integrate various projects.
Covering an area of 14 hectares, the hotel zone will consist of nine resort hotels including an ultra-five-star hotel, a five-star hotel, two four-star hotels and five themed hotels with a total of 4,500 rooms. The car park, with 4,000 parking spaces, covers a construction area of 120,000 square meters.
Heilongjiang Provincial Party Committee Secretary Wang Xiankui praised the project for filling the gap of the lack of cultural tourism projects in Harbin and enhancing the level of Harbin's urban positioning, adding that Wanda Cultural Tourism City will become the brightest cultural tourism attraction in Heilongjiang.
Wanda Group Chairman Wang Jianlin said the cultural tourism city is a master project that embodies Wanda's innovation and, with standards surpassing all existing similar cultural tourism projects in the world, it is set to become a new brand in world cultural tourism.
Wang added that in addition to the Harbin project, Wanda plans to invest in five more cultural tourism cities in Nanchang, Wuxi, Guangzhou and other cities.