Wanda Completes Acquisition of AMC
Sep 05,2012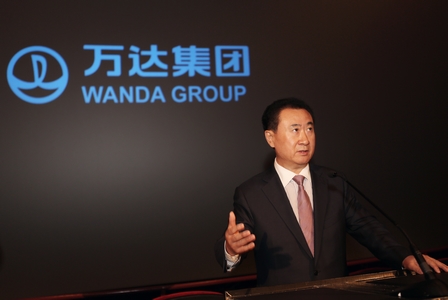 Wang Jianlin, Chairman of the Wanda Group, Tuesday announced in Los Angeles, the United States, that Wanda has completed the acquisition of AMC Entertainment Holdings, Inc., the second largest U.S. cinema chain. It means AMC has become a formal member of the Wanda Group, which is now the world's largest cinema operator.
Chairman Wang said, "We are very pleased to have completed the acquisition of AMC and begin this new chapter in Wanda's international development. Throughout this entire process we have been impressed with the expertise and dedication of AMC's management team and associates. We now look forward to working with AMC's CEO Gerry Lopez and his team to invest in and build on the company's widely-recognized brand and the incomparable entertainment experience AMC offers to its millions of customers."
Gerry Lopez, chief executive officer and president of AMC, said, "All of us at AMC are thrilled about our future with Wanda. It allows us to continue expanding and innovating in what is the world's largest movie market. More so, we are enthusiastic about combining AMC's leadership in the US with Wanda's leadership in China, the world's fastest-growing market. We strongly believe in our shared common interests in advancing the movie industry and we feel this partnership creates one of the world's premier location-based entertainment companies."
The transaction, valued at approximately US$2.6 billion, had been approved by all relevant authorities in China and the United States by August. Wanda's purchase of AMC is the largest acquisition made by China's private enterprises in the United States and the largest overseas acquisition for China's cultural industry.
The transaction creates the world's largest global cinema owner by combining Wanda's 94 theatres, 805 screens and large-scale stage show, film production and distribution, entertainment chains with AMC's 338 multiplex theatres and 4,865 screens, including 2,171 3-D screens and 124 IMAX screens, making it the world's largest operator of IMAX screens.
(Editor: Guan Xiaofeng)