Wanda opens new plaza in Dongguan
Jul 22,2012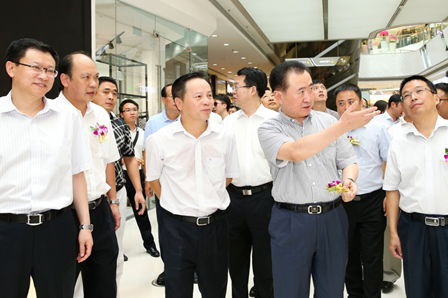 Wanda Group Chairman Wang Jianlin (2nd left) inspects the Chang'an Wanda Plaza.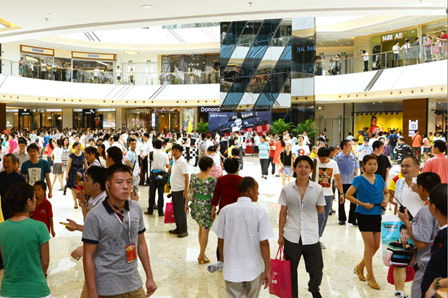 Customers swarm to the Chang'an Wanda Plaza on its opening day.
Dongguan Party Secretary Xu Jianhua, Wanda Group Chairman Wang Jianlin, Dongguan Vice-Mayor He Yu and other officials attended the opening ceremony.
As the city's first Wanda Plaza, the Chang'an Wanda Plaza is Wanda's sixth plaza opened for business this year and its 73rd in China. The group plans to open 18 plazas this year.
The plaza is located in Chang'an Town, ranking among China's 100 most developed towns. It will become the new vibrant area of development of the town. The opening will boost local business, accelerate the upgrade of traditional industries and improve the service industry in Chang'an and Dongguan. It will also serve to alter the lifestyle of local residents as well as the town's demographic structure.
The plaza serves as a one stop shopping experience to visitors and also houses a KTV, an entertainment city, a children's park, and an Aeon supermarket.
The plaza has drawn nearly a hundred well-known brands, such as UNIQLO, H&M, Starbucks, Haagen-Dazs, etc. Among these brands, 60% are new entries to the Dongguan market , while 90% made their debut in Chang'an.
The plaza has set a new standard in terms of planning, construction quality, business structure, brand quality and environment for shopping centers in the area.
The development will provide nearly 10,000 job opportunities and contribute 100 million yuan in taxes annually.
At the opening ceremony, Wanda Group also donated 500,000 yuan to the Dongguan Charity Foundation to help students living in poverty.