Wanda Joins the 1st China Charity Fair
Jul 13,2012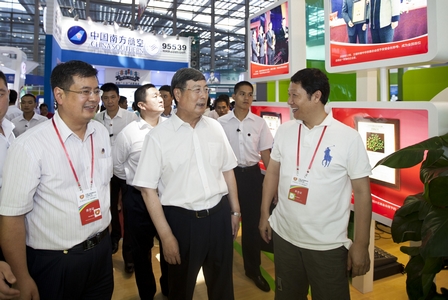 Huang Mengfu, vice chairman of the China People's Political Consultative Conference and chairman of the All-China Federation of Industry and Commerce, visited Wanda's pavilion at the fair.
The Wanda Group was invited to participate in the 1st China Charity Fair held in Shenzhen on July 12-14.
As a representative of China's private enterprises, Wanda demonstrates its achievements in fulfilling corporate social responsibility since it was founded 24 years ago.
Wanda announced at the fair the establishment of the Wanda Volunteers Federation.
The Wanda Group makes "Common Prosperity & Charitable Society" as the company's mission and has made more than 2.8 billion yuan ($444 million) worth of charitable donations in the past 24 years, making itself the largest corporate charitable donor in China.
The Wanda Group has won 6 China Charity Awards, China's highest award for charitable undertakings, and becomes the only enterprise receiving 6 China Charity Awards.
(Editor: Guan Xiaofeng)