Wanda Sets Up Cultural Industry Group
Jun 29,2012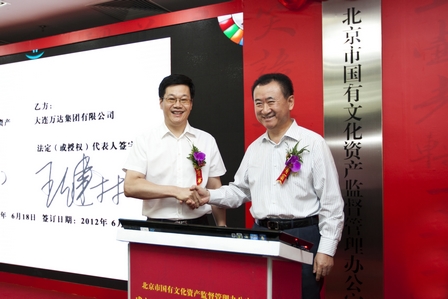 The Beijing Municipal Government and the Dalian Wanda Group made a joint announcement on June 18 that Wanda will integrate its cultural businesses registered in Beijing and other places to form a unified cultural business, the Beijing-based Wanda Cultural Industry Group. The Beijing Municipal Government encourages and supports the initiative.
Wanda started to massively invest in cultural industries in 2005 and has put more than 10 billion yuan ($1.59 billion) into the field, becoming the nation's largest enterprise investor of cultural industries.
The Dalian Wanda Group now operates in 6 culture-related industries: film production & distribution, large stage show, film technology & entertainment, entertainment chain, newspaper & media, and Chinese calligraphy & painting collection.
Among the 6 industries, Wanda ranks world No.1 in cinema line and stage show. Wanda has the world's only film technology theme park. In entertainment chain and artwork collection, Wanda ranks No.1 in China.
In 2012, Wanda Cultural Industry Group will have revenue of more than 20 billion yuan ($3.2 billion) and become China's largest cultural enterprise. In 2016, Wanda's cultural revenue will hit 40 billion yuan ($6.4 billion), becoming one of world's top 20 enterprises engaged in cultural industries.
(Editor: Guan Xiaofeng)