Baoshan Wanda Plaza Opens in Shanghai
Jun 29,2012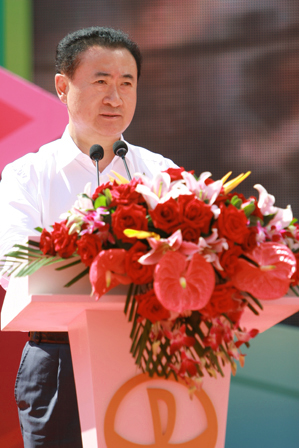 Chairman Wang Jianlin made a speech at the opening ceremony
Shanghai Baoshan Wanda Plaza, the first Wanda Plaza put into operation this year, opened on June 29.
Feng Guoqin, Shanghai CPPCC Chairman, Si Fumin, Baoshan District Party chief and Wang Jianlin, Chairman of the Wanda Group, attended the opening ceremony.
Located in the core area of northern Shanghai, Baoshan Wanda Plaza is the 4th unban complex developed by the Wanda Group in Shanghai, following Wujiaochang, Zhoupu and Jiangqiao Wanda Plazas.
Over 100 brands, such as Wanda Department Store, Wanda Cinema, Dagexing Karaoke Chain, Wal-Mart, Gome Electrical Appliances, Marks & Spencer, H&M and ZARA, open their outlets in Baoshan Wanda Plaza.
The Wanda Cinema in the plaza contains 11 screens and seats 1800 people, with an IMAX theatre.
The plaza will create about 10,000 jobs and pay an annual tax of over 100 million yuan ($15.9 million).
(Editor: Guan Xiaofeng)