Wanda Gets IAAPA Senior Membership
May 22,2012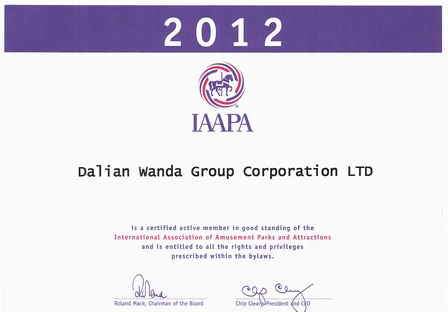 Approved by the International Association of Amusement Parks and Attractions (IAAPA), the Wanda Group has become a certified active member in good standing of the organization.
The membership is of the highest level in IAAPA, which is owned by only a few famous global brands, such as Disneyland, Universal Studio and SeaWorld. The Wanda Group is the only enterprise member in Asia to acquire such a membership.
Founded in 1918, IAAPA is the largest international trade association for permanently situated amusement facilities worldwide. The organization represents over 4,000 facility, supplier, and individual members from more than 93 countries.
IAAPA strives to help members improve their efficiency, marketing, safety, and profitability while maintaining the highest possible professional standards in the industry.
(Editor: Guan Xiaofeng)