Wanda Buys US Movie Chain AMC
May 21,2012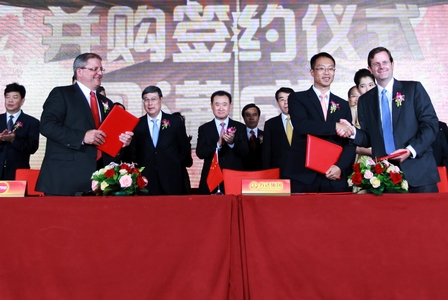 The Wanda Group Monday signed a merger and acquisition agreement with AMC Entertainment, the world's second largest theater chain, after two years of hard negotiations. The deal is a concrete step forward by Wanda in implementing its internationalization strategy.
The transaction involves a total amount of $2.6 billion, which is used to purchase AMC's full stake and inherit AMC's debts. Meanwhile, Wanda promises to input not more than $500 million for AMC operation after the merger. The Wanda Group pays $3.1 billion in total for the deal.
The Wanda Group was founded in 1988 and operates in five major industries, including commercial properties, luxury hotels, tourism investment, cultural industries, and department store chain. The company has assets of $35 billion, an annual income of $16.7 billion and pays $2.6 billion in taxes. The Wanda Group has become a leading private enterprise in China.
The Wanda Group began to massively invest in cultural industries in 2005. It has entered five industries, including central cultural district, big stage show, film production and projection, entertainment chain and Chinese calligraphy and painting collection. Wanda has invested more than $1.6 billion in cultural industries and become the nation's largest enterprise investor in cultural industries.
US-based AMC Entertainment Inc is the world's No.2 theater chain, with $2.5 billion revenue and 20,000 employees in 2011. Around 200 million people watched movies in AMC theaters in 2011. AMC owns 346 multiplex theaters across North America, and a total of 5,028 screens, including 120 IMAX screens and 2,170 3-D screens, making it the world's largest operator of IMAX and 3-D screens. Most of AMC's theaters are located in downtown areas of North America's large cities and 23 of North America's 50 top-grossing theaters belong to AMC.
The merger negotiation between Wanda and AMC began in the first half of 2010. China's National Development and Reform Commission approved the merger report in March. Wanda will complete the merger procedures by winning approvals from China's National Development and Reform Commission, the Ministry of Commerce and the State Administration of Foreign Exchange. Meanwhile, the transaction will be completed after receiving approvals from the relevant US authorities.
After the merger, the Wanda Group owns AMC, world's No.2 Cinema Line, and Wanda Cinema Line, Asia's No.1, becoming the world's largest cinema operator.
(Editor: Guan Xiaofeng)