Wanda Group Holds Party-building Meeting
Mar 27,2012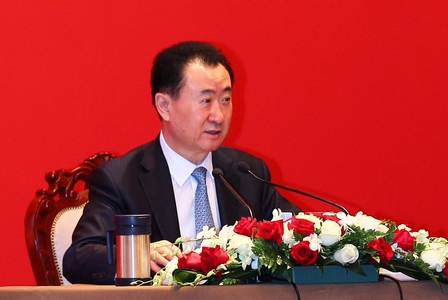 Wanda employees attended the meeting
The Wanda Group held a special meeting on Party-building works at the Hotel Sofitel Wanda Beijing on March 25. Chairman Wang attended the meeting and made an important speech.
He pointed out that the Wanda Group has made substantial achievements in Party-building works and will further strengthen the works.
Gao Qian, Secretary of Wanda CPC Committee, conveyed the spirit of the National Meeting on Non-public Enterprises' Party-building Works, which was held in Beijing on March 21.
Vice-President Xi Jinping, a Standing Committee member of the Political Bureau of the CPC's Central Committee, attended the meeting and made a speech.
Wang Jianlin, Chairman of the Wanda Group, attended the meeting as an entrepreneur delegate and made a speech on Wanda's experience in party-building.
(Editor: Guan Xiaofeng)