Chairman Wang Interviewed by CCTV
Mar 12,2012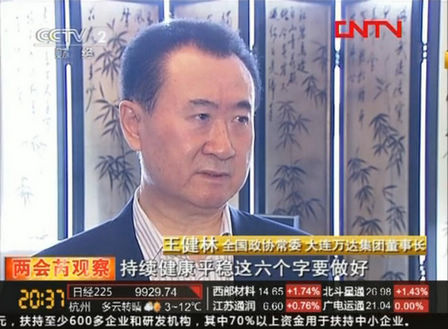 At the annual sessions of the National People's Congress (NPC) and CPPCC in 2012, Chairman Wang's proposals of restoring the 30% discount on mortgage interest rates for first-time home buyers and giving full tax exemption to micro-enterprises have received wide public attention.
CCTV conducted an exclusive interview with Chairman Wang, which was aired on the station's finance channel in the evening of March 11, 2012.
Chairman Wang said in the interview that efforts to curb speculative home purchases have paid off as such demand has basically been extinguished in the real estate market.
Therefore, the discount should be restored to protect genuine home purchase demand and ensure a "sustainable, healthy and stable" real estate market.
On giving full tax exemption to micro-enterprises, he said that such a move can encourage more people to start their own businesses and help boost the labor market. Micro-enterprises bring wealth to the people as those in micro-enterprises benefit directly from the income and wealth generated. Therefore, the government should give greater support to micro-enterprises.
(Editor: Guan Xiaofeng)