Chairman Wang Jianlin Visits Russia: An Impression of Russia
Feb 22,2012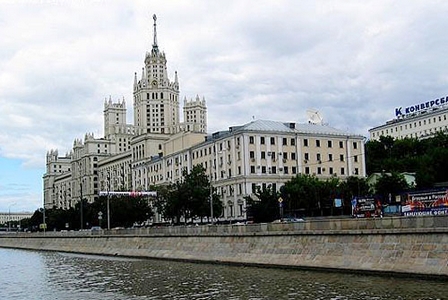 Ukraine Hotel
Lake Baikal
Recently, Chairman Wang Jianlin paid a visit to Russia along with a Chinese official delegation for eight days. The 10,000-plus-kilometer trip covered from St. Petersburg to Vladivostok, across the Russian territory, from the east to the west, and generated a brand new understanding of Russia. The discoveries along the trip are quite interesting.
Indescribable Russia
Upon arrival at Moscow, officials from the Chinese Embassy in Russia described Russia to us in four sentences: Russia is neither a backward country, nor a developed one; neither a nation with dictatorship, nor a democratic one. A few days later we started to understand these descriptions better. If we only focus on Moscow and St. Petersburg, they are in no way inferior to Beijing and Shanghai. The seven grand buildings that were constructed in Moscow during the reign of Stalin look absolutely magnificent and stunning; and the architectures like luxurious Ukraine Hotel and Gum Shopping Mall are also rarely found in China. The per capita GDP and income in Russia are much higher than those of the Chinese, making Russia seem a developed country. But except these two cities, other cities only contain old houses, uneven roads, and backward infrastructure. We went to Irkutsk to attend the Baikal International Forum, which is said to be the equivalent of Boao Forum in Russia. This was the 12th session of the Forum which carries considerable influence. We stayed in the best local hotel, a so-called "four-star" one, whose infrastructure is not as good as that of a hostel in a county hardware and even the county's hostel. The International Conference Center, where the Forum took place, looks as ugly as a factory, and its facilities inside are incomparable to any conference centers in China. Even at the opening ceremony, the microphone failed to work several times, which made the scene very awkward. In comparison, apart from metropolis such as Beijing and Shanghai, China also has other developed cities like Guangzhou, Shenzhen, Hangzhou, and Chengdu. But the development of Russia is too unbalanced. Judging from the regions, Russia is really like a backward country. After Putin has been in power for many years, he will soon swap positions with Medvedev to become the next president, such that Russia seems like a country ruled by dictatorship. Yet the Russian president must be elected, and Russia has opposing parties, which even run opposition television stations and newspapers. Many people criticize Putin on television every day. All these facts make Russia look like a democratic nation. Perhaps being atypical is precisely the characteristic of Russia.
Expensive prices
Rumor has it long time ago that things are expensive in Russia and today the rumor came true. Even the corporate rates for the Chinese Embassy with the five-star Ukraine Hotel in Moscow stood at US$500 per day for a standard room, and US$850 for a suite. The price of a standard room at the four-star Slavic Hotel was US$400. The international five-star hotels like Marriott and Intercontinental would be even more expensive. A normal lunch at the Kotobuki restaurant near our hotel cost US$1500 for eight persons. A 500-ml bottle of German beer was sold at US$15, while a 330-ml bottle of Chinese Tsingtao beer cost US$8. Prices at Irkutsk and Vladivostok were about 1/3 cheaper than those in Moscow, but more expensive by 2 to 3 times than in most provincial capital cities in China.
No Russian-made cars on streets
During the several days spent in Moscow and St. Petersburg, we discovered that foreign-made cars were everywhere on the streets. Most of the cars were made in Germany and Japan, and very few cars were made in Russia. During the three days in Moscow, we only saw a Volga and a Lada, the conditions of which were very old and poor. The Russians told us that five years ago a number of Russian-made cars could be seen on the streets. But ever since foreign auto makers set up factories in Russia, Russian cars have been basically forced out of the market. For a long time in the past, Russia used to be a large car-producing country. From this perspective it could be seen that Russia's economic policy is problematic - only resources-production was focused while neglecting to build its own industrial system as a big nation.
Moscow is also the "capital jam city"
Having lived in Beijing for a few years made me very impressed with the nickname of Beijing as the "capital jam city", and I once thought that Beijing is the most congested city in the world. Only after arriving at Moscow did we realize that the Beijing traffic jam is really so insignificant compared with that in Moscow. On a particular day, the members of the delegation were arranged to call on Mr Igor Rogachev, Head of Russia-China Friendship Association and Russia's former ambassador to China. Mr Rogachev, a venerable old gentleman, served as the Ambassador for more than ten years in China, and he interpreted for Chinese state leaders such as Mao Zedong, Zhou Enlai, and Deng Xiaoping. When we set out from our hotel, we were told that we would be on the road for only 40 minutes, which turned out to be two and half hours as a result of congestion. It was fortunate that Mr Rogachev was still waiting for us, but the meeting only lasted for 10 minutes given the long delay. It normally took one hour from our hotel to the Moscow airport. But on the day when we flew from Moscow to St. Petersburg, the Chinese embassy officials who saw us off and the General Manager of PetroChina in Moscow insisted that we leave hotel three hours ahead of time, being afraid of traffic jam. The General Manager told us an extreme story – he once said farewell to a leader from PetroChina headquarters who flew from Moscow to Beijing. Eight and half hours later the leader called him upon arrival in Beijing only to find that the General Manager was still on way to downtown home in Moscow due to congestion.
Arrogant and unpunctual officials
During our visit to Russia, we have met three ministers and three governors of the Russian Federation, and a number of heads of departments of the Russian Federation and regions. The general impression was that Russian officials generally were bureaucratic and not punctual. None of the officials we visited was punctual, and they only showed up when we have chatted with their subordinates for about half an hour. And most of them would excuse themselves before the meetings ended and instructed their subordinates to carry on the conversation. Knowing that there were important businessmen in the delegation who were prepared to invest in Russia, these officials still carried such an air. I was confused about whether Russia truly desired investments by China? Previously I had concurred with Chairman Lu Zhiqiang of China Oceanwide to take advantage of the trip and achieve something there, but the Russian officials' bureaucratic style prevented us from making up our mind.
Beautiful Lake Baikal
Russia boasts vast land with rich natural resources. None of any other countries in the world is comparable to Russia in terms of resources. More than 50% of Russia's land was covered with forest, being the world's largest coverage. Looking down from an airplane, we can see almost everywhere forests, rivers and lakes, apart from cities, factories and roads. Lake Baikal in Ru