Chairman Wang jianlin Attended Private Economy Development Conference
Aug 29,2011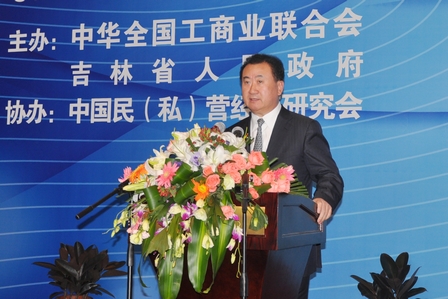 China Private economy Development Conference (Changbai Mountains) was held in Changbai Mountains International Resort in Baishan, Jilin on August 23-24. Officials from related authorities, specialists in the related fields, Chairman Wang of Wangda Group and over 100 other renown entrepreneurs had in-depth discussion on the topic of Accelerate the Transformation of Growth Models——the Definite Route for China Private Economic Growth. Quan Zhezhu, Deputy Minister of the United Front, Secretary of the CPC committee and First Deputy Chairman of All-China Federation of Industry & Commerce, Sun Zhengcai, Secretary of the CPC Jinlin Provincial Committee attended the opening ceremony of the conference and gave speeches.
The 12 topics discussed on the conference are: create competitive edge with technology innovation, accelerate the transition and upgrading of traditional manufacturing with technology innovation, SMEs transition and upgrading led by leading companies and chamber of commerce, accumulate the strength for sustained growth with innovative management, lift the competitive advantage with business model, promote brand-oriented development strategy, global vision is essential for the transformation of the growth model, actively engage in the reviving of Northeast Industrial Base, invest in strategic emerging sectors, face up to global competition, invest in modern agricultural, modern service and cultural sectors, analysis of future economic growth of China.
Wang Jianlin, Chairman of Wanda Group, Wang Wenjing, Chairman of UFIDA Software, Liu Chuanzhi, Chairman of Lenovo Group, Lu Zhiqiang, Chairman of China Oceanwide, Wang Wenbiao, Chairman of Elion Group, Sun Xishuang, Chairman of Dalian Yifang Group delivered speeches on the above topics with reference to the situation of their respective companies. Hou Yunchun, Deputy Director of the Development Research Center of the State Council, Long Yongtu, Secretary-General to the G20 Research Group, Wu Jianmin, Deputy Chairman of China Institute of Innovation & Development Strategy, Ai Feng, Deputy Director of China Strategic Brand Promotion Committee, Cao Yuanzheng, Chief Economist at Bank of China provided analysis on the transition and upgrading of the private economy, and the latest development in the Chinese economic growth factors etc.
After the conference, officials of Jilin provincial government and the entrepreneurs visited the under-construction Changbai Mountains International Resort, and the show flat of Forest Residences Changbai Mountains Muxiani , and the cluster of six premium hotels. In the evening, the guests visited the Fusong Newtown at the north of the Changbai Mountains International Resort. The Fusong Newtown is located at the bank of Songjiang River, next to the mountain, and has a stunning view. Guests also attended the reception dinner.
Also attended the event were Wang Rulin, Governor of Jilin Province, Liu Runpu, Deputy Director of the National Congress Jilin Committee, Chen Weigen, Deputy Governor of Jinlin Province, Bie Shengxue, Deputy Chairman of the CPPCC Jilin Provincial Committee, Chairman of All-China Federation of Industry & Commerce Jilin Committee, and Deputy Chairman of All-China Federation of Industry & Commerce Jilin Committee Lu Zhiqiang, Xu Lianjie, Fu Jun, etc.