Wanda Generates the Most Tax Revenue among Private Companies
Aug 28,2011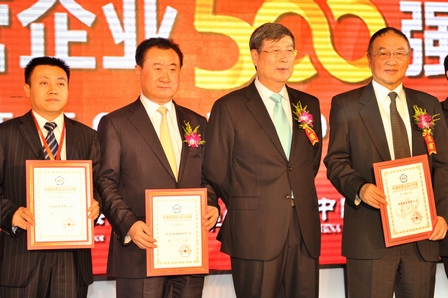 All-China Federation of Industry & Commerce held the press release on 2011 Chinese Private Company 500 at Sofitel Wanda Beijing Hotel on August 25, 2011, and announced the 2011 Chinese Private Company 500 list, 2011 Chinese Private Company 500-Manufacturing list, and 2011 Chinese Private Company Analysis Report. Wanda Group ranked No.5 among the China Private Company 500, and ranked the first in terms of tax contribution. Huang Mengfu, Deputy-Chairman of the CPPCC, Chairman of All-China Federation of Industry & Commerce, Quan Zhezhu, Deputy Minister of the United Front, Secretary of the CPC committee and First Deputy Chairman of All-China Federation of Industry & Commerce, Wang Jianlin, Member of the CPPCC Standing Committee, Deputy Chairman of All-China Federation of Industry & Commerce, Chairman of Dalian Wanda Group attended the press release.
All-China Federation of Industry & Commerce started to conduct survey on large-scale private companies in China since 1998; so far there have been 13 surveys. The 2011 China Private Company 500 released this time was based on the operating revenue of these private companies in 2010; the top five companies were : Huawei, Sha-Steel, Suning Electric Appliances, Leveno Holdings and Wanda Group. The Federation also ranked the private companies according to their tax contribution, and the top five companies were: Wanda Group, Geely Holdings, Yitai Group, R&F Properties, and Wahaha Group.
Chairman Wang Jianlin delivered a speech on behalf of the private company entrepreneurs on the press release. He noted, private companies have seen significant growth, however, the glass ceiling still exists. The current problems are: (1).There are hurdles for them to grow bigger; (2).Private companies do not receive the respect they deserve; and (3). Wealth is sometimes misused. The key to solve these issues is to lead the company to a society-oriented one, and the entrepreneurs should take up social responsibilities. As he understands it, there are three levels in the pursuit of wealth: for oneself, for fame and power, and the highest level —— for the society. Chinese companies, especially Chinese private company entrepreneurs who own the wealth themselves, should take up their social responsibilities.
Dalian Wanda Group has achieved robust record across its commercial property, high-end hotel, cultural business, shopping mall chain, and tourism and holiday segments in 2010. The Group has 33 Wanda Plazas, 15 five-star hotels, 600 film screens, 26 shopping mall chains, 30 KTV clubs, with a total asset value of Rmb 140 billion, annual sales revenue of Rmb 80 billion, and annual tax contribution of Rmb 9.5 billion for the year. Wanda Group has maintained fast growth in the first half of 2011, with sales revenue of RMB 61.8 billion, and tax contribution over Rmb 9.3 billion. Wanda expects the tax contribution for the year to be over RMB 20 billion. The Group has set the target of RMB 200 billion in total assets, RMb 120 billion in sales revenue, and RMB 20 billion in tax contribution, and become a world-class company in 2012.