Wanda won China Charity Award 2010
Jul 15,2011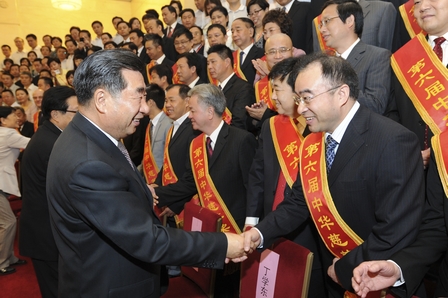 The result of the China Charity Award 2010 selection organized by the Ministry of Civil Affairs was released on July 15, 2011; Dalian Wanda Group won the prize of the 'Most Loving Domestic Enterprise'. The China Charity Award has been granted six times since 2005, of which, Wanda received the award five times, and became the only enterprise in the country that won the award five times.
In 2010, Wanda Group and Chairman Wang Jianlin donated a total of RMB 1.28 billion, setting the highest record for Wanda's annual donation. Whenever there were natural disasters, Wanda has always been the first to extend the helping hand. Wanda has donated RMB 40 million successively to the southwest drought-affected area, RMB 100 million to Qinghai Yushu earthquake-affected area, RMB 10 million to Gansu Zhouqu debris flow-affected area, and RMB 30 million to Jilin flood-affected area.
Wanda Group placed focus of the charity work on education and poverty rescue in 2010. It donated RMB 200 million to Chengdu Charity Foundation for the construction of Chengdu No.7 Middle school, with leading facilities in the country; it donated RMB 5 million to Ningxia Youth Development Foundation for the education development in Gansu Xihaigu area; it donated RMB 3 million to One Foundation for the setting up of the Beijing Normal University Public Welfare Research Institute and donated RMB 10 million to Dalian Charity Foundation for the city's financial-assistance program during the Chinese New Year season. Moreover, Wanda Group has always donated to local governments for their education and poverty rescue activities at Wanda Plaza inception and opening ceremonies, which totaled RMB 20 million.
?There is a charity tradition among Wanda employees too. All the Wanda employees have become volunteers. The Group organized 308 volunteer activities in 2010 with 22 thousand people participated. These have become the unique enterprise volunteer activities that won the company broad, positive feedback from the society.
Wanda Group has always taken 'create wealth together, benefit public welfare' as their corporate mission, and actively returned favor to the society. As at the end of 2010, Wanda Group has cumulatively donated RMB 2.7 billion to social charities and public welfare, positioning itself as one of the private enterprises with the largest amount donated. In 2010, Wang Jianlin was awarded 'National Role Model in Earthquake Relief' by the Central Committee of the Communist Party of China, the State Council, and the Central Military Commission for the effort in the Yushu earthquake relief; Wanda Group was awarded 'China Poverty Elimination Award' by the China Poverty Alleviation and Development Office and the China Poverty Alleviation Foundation.