Wang Jianlin attends forum on Chinese commercial real estate industry development
Mar 28,2011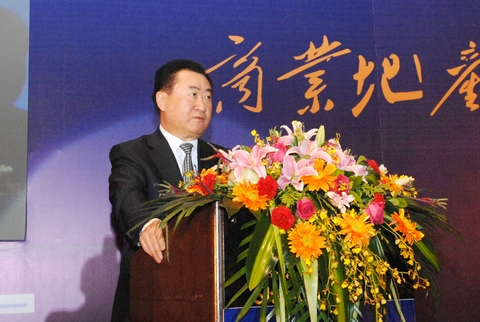 On 25 and 26 March, the 2010 Forum on Chinese Commercial Real Estate Industry Development was held at the Qingdao Shangri-la Hotel. Chairman Wang Jianlin attended the forum and gave a keynote speech. This year's forum was co-organized by the China Commercial Real Estate Association and the Circulation Industry Promotion Center of the Ministry of Commerce.
In the speech, Chairman Wang Jianlin pointed out that operation management must be carefully studied in the business of commercial real estate to make it the core competitiveness of a company. The success of Wanda Plaza is due to (1) reasonably plan for the businesses to attract. Wanda Plaza's special point is that primary and secondary businesses account for a larger percentage, with over 50% non-retail businesses; (2) emphasis on letting businesses make money, focus on thinking outside the box, and repeatedly study ways to let businesses make money; (3) keep upgrading and adjusting. China has a large population with great regional variance in culture. No company can be unbeatable in the field of commercial real estate. Continual adjustment and improvement to existing shops is necessary.
At the forum, Chairman Wang Jianlin was awarded "Lifelong Achievement in Commercial Real Estate in China", Dalian Wanda Commercial Properties was awarded "The Most Influential Commercial Real Estate Development Company in China", and Hefei Baohe Wanda Plaza was awarded "Outstanding Operation Project in Commercial Real Estate in China".