Grand opening ceremony of construction of Haxi Wanda Plaza
Mar 26,2011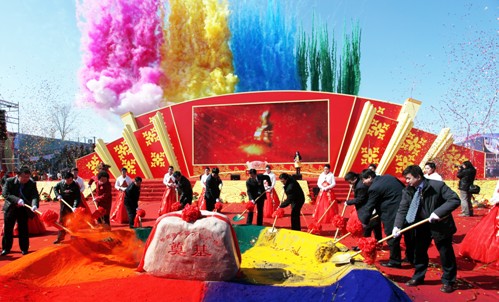 The scene of the grand opening ceremony of construction of Haxi Wanda Plaza
At 10am, 25 March, the grand opening ceremony of the third Wanda Plaza in Harbin – Haxi Wanda Plaza – was held.Deputy Mayor of Harbin, Jiao Yuanchao, Chief of Nangang District, Ding Jian, Vice-President of Dalian Wanda Commercial Properties, Sun Jiquan, and a few hundred guests from all walks of society in Harbin witnessed the event.
Vice-President of Dalian Wanda Commercial Properties, Sun Jiquan, said in a speech that Wanda would continue to follow the brand's philosophy to fulfill its commitment to society – "make cities more prosperous", "make life more beautiful" – and build Haxi Wanda Plaza with devotion in a new business model to make even greater contribution to Harbin's economic prosperity and urban development.
Deputy Mayor of Harbin, Jiao Yuanchao, spoke at the ceremony on behalf of Harbin Municipal Committee and the Municipal Government, giving high praises for Dalian Wanda's enormous investment in building Haxi Wanda Plaza. He also said that Harbin Municipal Committee, the Municipal Government, and all relevant departments would provide a good environment and strong support for the construction of the city's key commercial project based on the principle of providing quality service to investors.He also hoped that Dalian Wanda could complete the construction of the project as soon as possible to contribute to Harbin's urban development.
Haxi Wanda Plaza is located in the Haxi new district, the new hit spot of Harbin's real estate investment. Haxi Wanda Plaza comprises a five-star hotel, a large shopping center, an international supermarket chain, both indoor and outdoor commercial pedestrian's malls, high-end residential buildings, boutique apartments, a KTV complex, an electronics and games city, an international movie center, and grade-5A office blocks, etc. It is one of the three largest urban complexes in the three Northeast Provinces.
After completion, Haxi Wanda Plaza will greatly improve the facilities in the Haxi new district, raises the quality of living of the people in the district, improve the region's commercial function, raise its business status, and upgrade the Haxi new district to become the new city center of Harbin.