The Group's Party Committee Held the 2011 Training Programme for the Development of Target Party Members
Mar 23,2011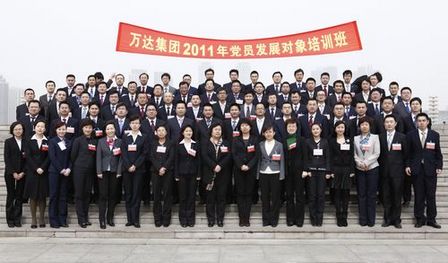 With the intensified development of activities in innovation and excellence, the Group's Party Committee has recently held the 2011 Training Programme for the Development of Target Party Members at their party base in Dalian.
The senior authorities have made an exception for the Group this year by approving 90 headcount for this development programme, which is three times that of last year. In order to conscientiously implement Chairman Wang Jianlin's requirements to select high-quality, outstanding employees in senior positions, and with high academic background, to develop them into party members so that they can play an exemplary role and exert their influence as party members. With considered recommendations from 106 party branches, and active coordination from the Human Resources Department in selecting the cream of the crop, 90 out of hundreds of active employees have been confirmed as targets for party member development. Among which, 23 are general managers, 33 are deputy general managers, 30 department managers, and 4 outstanding front-line staff.
By systematically summarizing "the positions and functions of the party and party members in non-central enterprises", and "clarifying the conditions in becoming qualified party members", the training programme enhanced the trainees' understanding of the party, corrected their motives in joining the party, and clarified the different requirements related to the standards and processes, as well as the strict procedures in joining the party. Wanda's development has been integrated in these interactive exchanges, individuals were linked together, and everyone was active in voicing their opinions: Not only has Wanda built a platform for our career, they have also provided correct guidance and important support for our political development. This training programme has confirmed the common and sacred idea of "I am a Communist Party member", helping us in establishing a new positioning and a new starting point while integrating into the Wanda culture. The passion ignited by this training programme will continue to influence our lives. It is an honour to become a Communist Party member, but more importantly, we have important responsibilities to fulfill. We will hold our ideals and beliefs firmly, be practical, and remain steadfast, striving to make great contributions to realize the vision of an "International Wanda, a Hundred-Year-Old Enterprise", working hard throughout our lives to fulfill the solemn promises as pledged in the party oaths.