Finance department of shareholding company conducted project financing system training sessions
Mar 01,2011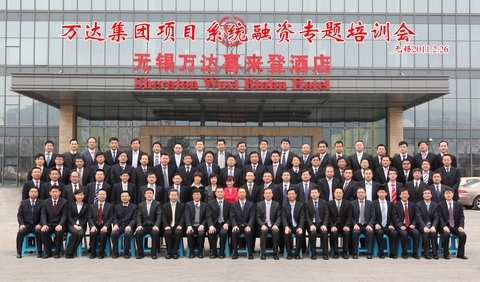 On 25-26 Feb, the finance department of shareholding company conducted project financing system training sessions. The current theme is titled "facing new situation head on, welcoming new challenges and achieving better performance". Zhang Lin, vice president of the shareholding company and the top brass from Wanda Institute attended this conference, while the training was attended by more than 80 people such as financial controllers form the project companies.
This training conference has two salient features: first, the training conference was a trial organized by the finance department of shareholding company and Wanda Institute, using pioneering techniques such as "Work Branch Analysis" and "Complementary Motivation Technique". The result was better than expected as all trainees said that they learnt tremendously from it.
Second, this training is practical-oriented by using case study pedagogy: (1) the president of China Merchants Bank participated personally in the drama "Caught in a dilemma" (2) The financing-themed training "Replaying actual combat" showed the different key channels to breakthrough difficulties (3) President Luo from China Merchants Bank HQ personally attended the seminars to interact with the trainees and answer their queries, making the training very lively.
In his concluding remarks, Zhang Lin, the vice president of the shareholding company, pointed out that the trial training was very successful and that every single project financing system training has produced positive results so far. He stressed the following points: first, more new employees must attend the training, and that the program must be clear on who to train and which direction to take. There must also be constant breakthrough in training methods. Second, " the Work Branch Analysis" is a very effective method to locate key points and issues in work problems so that they can be actively resolved, and that teamwork, especially inter-regional, between the financial controllers must always be present. Third, with the policy-tightening this year, every project company must ensure there is sufficient cash flow to achieve the annual targets.