Jiangyin (Wuxi) Wanda Plaza holds grand ground breaking ceremony.
Dec 29,2010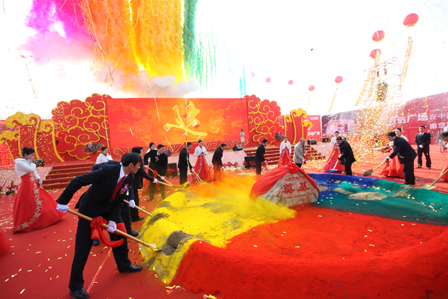 Jiangyin Wanda Plaza holds grand ground breaking ceremony.
On Dec 29th, Jiangyin Wanda Plaza, located in Jiangyin city, Xipian district, held a grand ground breaking ceremony.
The event was attended by hundreds including Zhu Minyang - Jiangyin City Committee Secretary of Wuxi Municipal Committee, Wang Xinan- Mayor of Jiangyin City , leaders related to the government of Jiangyin City, Zhang Yi - Planning Department General Manager of Dalian Wanda Northern Project Management Centre, Wang Bo - General Manager of Jiangyin Wanda Plaza Investment Co., Ltd, leaders from China Construction Eighth Engineering Division Corp, important leaders and the affiliated agencies in Jiangyin, and major news media reporters from Jiangsu and Jiangyin.
At 10:58AM, the leaders jointly laid the foundation stone for the project. The celebratory fireworks lit up the skies as work on Jiangyin Wanda Plaza commenced in full swing on an upbeat note.
The Jiangyin Wanda Plaza is a one-stop lifestyle outlet jam-packed with shopping, leisure, entertainment, offices, hotels, commercial facilities. Jiangyin Wanda Plaza will truly become the new centre of Jiangyin City – new commercial centre, as well as a new residential centre. This will greatly enhance Jiangyin's commercial standards, and move Jiangyin's businesses to become more stylish, more modern, more complete, more internationalized, and more experiential.