Grand foundation laying ceremony for Ningde Wanda Plaza
Dec 08,2010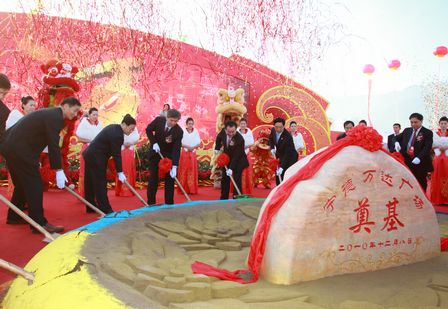 By Grand foundation laying ceremony for Ningde Wanda Plaza.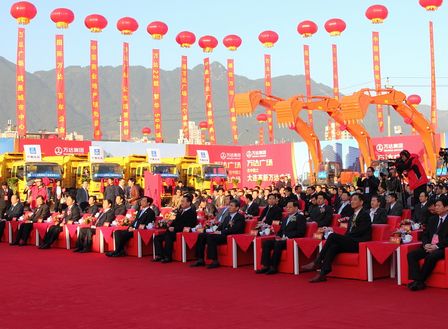 Site of the foundation laying ceremony for Ningde Wanda Plaza.
A large-scale foundation laying ceremony named "Prosperous Wanda, Glittering Ningde" was held for Ningde Wanda Plaza on 8 December 2010, adding to the fanfare for the tenth anniversary of establishment of Ningde City, thereby raising the curtains for Dalian Wanda's official entry into eastern Fujian.
Ningde is positioned as the heart of eastern Fujian and it is a gulf port city. Its goal is to become a livable eco-industrial port city and a national garden city. The structure of its overall city layout emphasizes on the development of "one heart, one core, three axes, two ports and seven districts". Ningde is an eco-industrial coastal port city and a most livable city. As the northeastern core city in the Western Taiwan Straits Economic Zone, Ningde is committed to the development of urban center districts, the establishment of port areas radiating in the northern and southern directions and the development of large industries along the ports. With the present tide of national implementation of the "Western Taiwan Straits Strategy", the city at the heart of eastern Fujian that is celebrating the tenth year of its establishment is ushering in its second take-off. Ningde Wanda Plaza is the strong booster fitted by Dalian Wanda for propelling Ningde into flight once again.
Ningde Wanda Plaza is Dalian Wanda's first project in eastern Fujian and it is located at the intersection of Ningde Ningchuan North Road and Tianhu East Road. It is located approximately three kilometers away from the Ningde municipal government and is in a high-end residential area in Ningde's urban district. It is a portal to the city's town area. It consists of a business center, a five-star hotel, Van's Department Store, Wanda Cinema, video arcade Big Gamer, Superstar KTV, electrical stores, outdoor pedestrian streets, commercial streets, high-rise residential and other facilities. It is a mega urban complex that serves multiple functions such as shopping, F&B, cultural, entertainment, recreational and residential purposes.
As the first "city within a city" in Ningde, the Ningde Wanda Plaza shoulders the important duty of opening up the market in Ningde for Dalian Wanda and it is also on a historic mission to elevate the business structure, housing quality, business environment and consumer trends in Ningde as well as the Western Taiwan Straits Economic Zone. Ningde Wanda Plaza will be a high-end and large-scale consumer premise in Ningde as well as eastern Fujian. Upon its completion, Ningde Wanda Plaza will further strengthen its position as the city center of Ningde and create a better life for Ningde residents.
The entry of Wanda Plaza into Ningde immediately received great attention from provincial and municipal leaders, and governmental leaders at various levels have given important instructions in the hope of expediting the construction of Ningde Wanda Plaza, so as to swiftly promote the construction of key functional areas in Ningde's Jiaocheng district, Dongqiao development district and the regions surrounding Sanduao. Chen Rongkai, secretary of the Ningde Municipal Party Committee, highly commended the planning and design of Ningde Wanda Plaza. He pointed out that it is the first urban complex, in the true sense of the term, in Ningde as well as eastern Fujian. It is a landmark building in Ningde and its purpose in the construction of the city should be appreciated from the angle of construction in eastern Fujian. He hoped that Dalian Wanda would absorb the latest concepts and highest standards in the construction of urban complexes domestically and abroad and build the best urban complex in eastern Fujian, thereby elevating Ningde's urban quality and urban functions and in turn making it the first construction in Ningde at its tenth anniversary and helping the city soar into the next decade.
"An urban center in each Wanda Plaza". Success in the form of 43 Wanda Plazas throughout China means that pumping huge investments into the construction of Ningde Wanda Plaza will not only produce a landmark building in Ningde. It also means that the urban functions of Ningde's Jiaocheng district and Dongqiao development district will be enhanced, thereby leading expansion of the city center at Ningde. Wanda Plaza is set to provide a sustainable boost to the brand image of Ningde and propel the city towards greater development and prosperity.