Business alliance conference for the Shanghai Wanda Plaza convened successfully
Dec 01,2010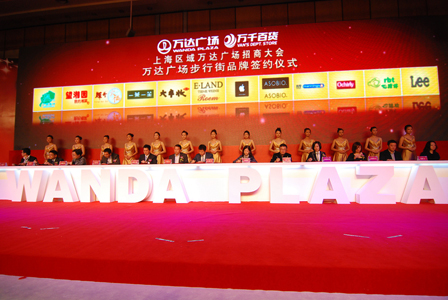 By The business alliance conference for Wanda Plaza in Shanghai cum brand signing ceremony was held at the Shanghai Pudong International Conference Center on 23 November with the theme "Brilliant Wanda, Invigorated Shanghai". The conference released investment information for the Jiangqiao and Baoshan Wanda Plazas that are slated to open in 2011 and close to a thousand representatives including government leaders in the Jiading district in Shanghai, businessmen with collaboration interests and mainstream media organizations in Shanghai were invited to attend the event.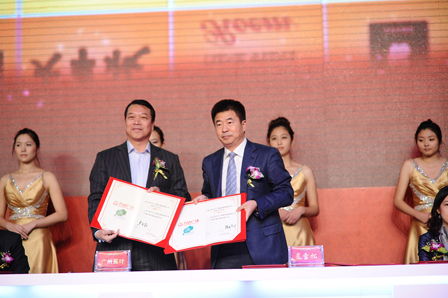 With the Jiangqiao and Baoshan Wanda Plazas slated to open in 2011, together with the existing Wujiaochang and Zhoupu establishments, Wanda will be positioned in the core eastern, southern, western and northern parts of Shanghai, thereby fully promoting its regional expansion strategy in Shanghai.
Presently, nine anchor stores, namely Van's Department Store, Carrefour, Superstar, Big Gamer, Wanda Cinema, Yongle Electrical Appliances, First Food, Xinhua Bookstore and Baodaxiang, as well as various renowned international and domestic brands such as Guangzhou Banana Leaf, Great Harvest, Huige Hotpot, Chamate, Wangxiangyuan, RBT, Guardian, Apple Digital, Eland Group, Asobio, Ochirly and Lee have signed on for participation. These tenants hail from leading companies in the F&B, entertainment, department store, clothing retail, home appliance chain and other industries. They hope to carve their niche in the massive consumer market in Shanghai through the expansion of Wanda Plaza.
As the anchor department store at Wanda Plaza, Van's Department Store conducted high-profile contract signings with 12 major international and domestic brands, namely Chow Tai Fook, ESPRIT/EDC, L'Oreal, Only, Mark Fairwhale, Enphants, ST&SAT, Nike Kids, Honeys, Good Baby, Jiaoding and Adidas.
Jiangqiao Wanda Plaza is a masterpiece of Dalian Wanda in the company's development. It serves three functions, namely "full-featured urban residential area, super commercial cluster and integrated central business district", forming a mega urban complex with an area of 550,000 square meters that encompasses metro line 13 and line 17. Upon completion, it will totally change the scenario at Jiangqiao where there is a lack of commercial centers and it will provide one-stop services to more than a million residents in Jiangqiao and its neighboring areas, thereby stimulating the upgrading of commercial facilities in the entire region.