Grand opening of the Jinan Wanda Plaza
Nov 19,2010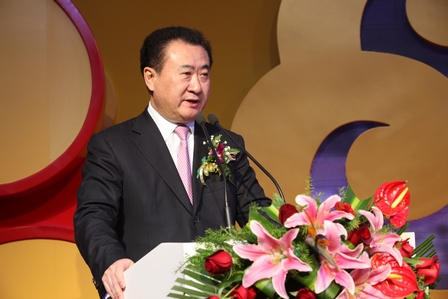 Chairman Wang Jianlin giving a speech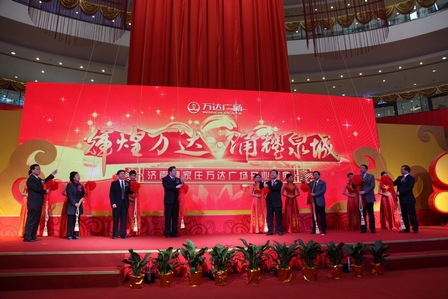 Ribbon cutting ceremony at the grand opening of the Jinan Wanda Plaza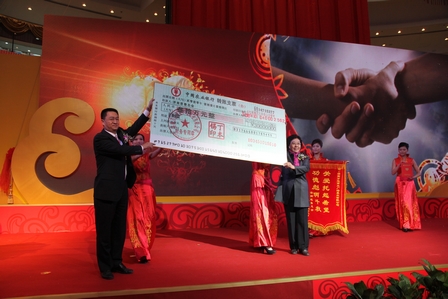 Wanda donates 300,000 yuan to the Jinan Charity Federation
19th November marked the grand opening of Jinan's largest urban complex to date——the Jinan Wanda Plaza. The Jinan Wanda Plaza, located within the core of Jinan's Daguanyuan, was packed with people on that day.
On the opening day, Zhang Jianguo, Vice Secretary of CPC Jinan Municipal Committee and Mayor of Jinan, attended the opening ceremony and participated in the ribbon-cutting together with other relevant leaders. During the ceremony, Vice Secretary and Mayor Zhang Jiangguo, and Wanda Group Chairman Wang Jianlin give their respective speeches.
Jinan developed its core commerce relatively early and has a hundred years of history as a commercial port. However, it lacked internationalized mega complexes and the potential vitality of its traditional commercial zones has yet to be stimulated. Being the first mega urban complex in Jinan, the Wanda Plaza has its roots in the core region of Jingsi Road, and its massive size of 1 million sqm and comprehensive business planning, it will become a commercial landmark that will go down the history of Jinan's commercial development. The Wanda Plaza also has great significance in promoting the region's urbanized development, spurring the region's business transformation and improvement, as well as raising the development standards of Jinan's service industry. This is also an important step taken by Wanda in its strategic development in China. According to reports, Wanda plans to open 15 Wanda Plazas and 7 five-star hotels in the second half of the year.
The Jinan Wanda Plaza comprises a large shopping center, a five-star hotel, a Grade-A office building and luxurious residences etc. The shopping center has seven anchor stores i.e. Van's Department Store, Wanda Cinema, Super Star KTV, Super Player, Gome Electrical Appliance, TESCO Supermarket and ZARA, along with a 400m long indoor walkway. Coupled with 45,000 square meters of urban walkways, this forms an integrated modern shopping center. Being Jinan's most internationalized, most modern and most comprehensive shopping center, Wanda Plaza has the largest number of anchor stores, the most high-end brands, the widest variety of products and will certainly become the new benchmark in Jinan's commercial scene.
The Jinan Wanda Plaza brings together many elements of life, from shopping and entertainment, F&B to business and leisure, satisfying customers' needs through its one-stop shop. Regardless of size, quality, business types or functions, it has set new benchmarks for Jinan, effectively integrating the region's originally backward and fragmented commercial situation, becoming Jinan's largest business cluster. At the same time, the Jinan Wanda Plaza realizes a high degree of synchronicity in terms of business and social benefits, creating nearly 10,000 new job opportunities in Jinan and generating hundreds of million yuan in tax revenue annually.