Grand opening of Baotou Wanda Plaza
Nov 05,2010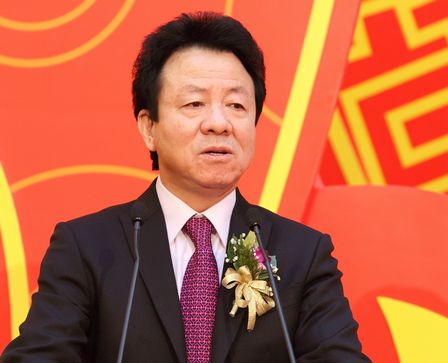 Ding Benxi, President of Dalian Wanda Commercial Properties Co., Ltd, giving a speech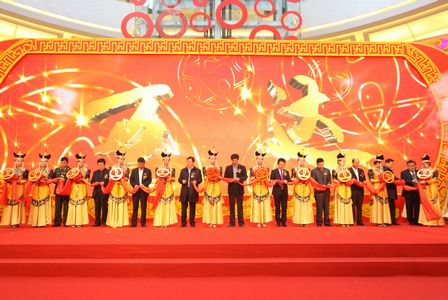 Ribbon cutting ceremony at the grand opening of Baotou Wanda Plaza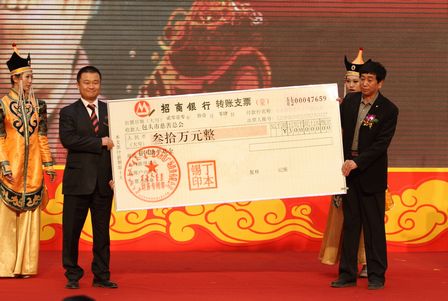 Dalian Wanda donates 300,000 yuan to the Baotou Charity Federation
4th November marked the grand opening of the Baotou Wanda Plaza, which is the first Wanda Plaza in Baotou City developed by China's leading commercial property enterprise, Dalian Wanda Group. This is also the first urban complex in Lucheng.
The complex is made up of a shopping center, deluxe apartments, international offices and core residential units etc. Six anchor tenants i.e. Van's Department Store, Wanda International Cinema, Super Star KTV, Super Player, Gome Electrical Appliances and CR Vanguard, together with many internationally renowned brands, operate within the complex. Baotou Wanda Plaza brings together fashion, shopping, entertainment and gourmet cuisine under one roof, with these different types of businesses mutually integrated and mutually complementary, offering the residents of Lucheng a one-stop location to satisfy their needs. It will become the new commercial center, lifestyle center and value center in Baotou.
Firstly, the Baotou Wanda Plaza has two commercial walkways characterized by distinctive themes, which are the commercial center's indoor walkway and the outdoor walkway respectively. This forms an integrated commercial zone, bringing about a brand new consumer experience. Secondly, the Van's Department Store located within the Baotou Wanda Plaza is the flagship store of Van's Department Store's B-grade stores, carrying numerous top international and domestic brands, and is one of the best department stores in Baotou. Thirdly, the Wanda Cinema within the Baotou Wanda Plaza uses internationally advanced facilities, boasting 10 screening halls and is the first five-star cinema in Baotou. The cinema adopts internationally advanced audio and visual technologies and will bring about a whole new viewing experience for the residents of Lucheng. Fourthly, Baotou Wanda Plaza's twin world-class office towers are customized for headquarters of large corporations, helping Lucheng to attract world-class corporations and filling Baotou's gap in high-end office buildings.
The opening of the Baotou Wanda Plaza will raise the commercial standards of Baotou significantly, driving the development of Baotou . The opening of the Plaza will also create nearly 10,000 new jobs for Baotou, generating hundreds of millions yuan in annual tax payments. This creates enormous economic and social benefit, contributing greatly to the economic development of Baotou, and even the Inner Mongolia region.